DEEP OSCILLATION® Therapy in Newbury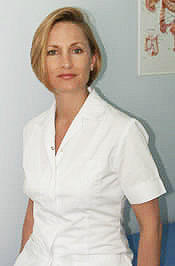 Based in the heart of Newbury, The Alternative Therapy Clinic provides a sanctuary from the stresses of everyday life, offering DEEP OSCILLATION® Therapy in a tranquil and serene environment.
The Clinic is managed and run by Naturopath Lesley Schofield who trained in anatomy and physiology at the 'College of Naturopathic Medicine' in London. Previously having covered holistic massage at Harrow College she then went on to train in the use of DEEP OSCILLATION® with the exclusive UK distributors for the product, PhysioPod UK Limited®.
Lesley is a member of the GRCCT, the General Regulatory Council for Complementary Therapies. The Council promotes safe practice and professional conduct at all times.
Be assured that at The Alternative Therapy Clinic you are in safe hands.
Through her work, Lesley is committed to promoting good health and well being through healthy lifestyle. Her training as a Naturopath has lead her to believe that it is within our own remit to take control and responsibility for our own health and by doing this regain or maintain vitality. DEEP OSCILLATION® therapy can help achieve this.
If you are considering treatment for the first time and are curious or looking for a change of scenery from your usual clinic, then we hope that you will find what you are seeking at The Alternative Therapy Clinic.
Our clients choose The Alternative Therapy Clinic for the professionalism they receive and the beautiful fresh and clean surroundings. Although many may come along with the intention of trying just one treatment, they more often than not, book again and again because of the benefits they experience.

For more information or to arrange an appointment contact us on 07709 896140 or alternatively email lesley@atcnewbury.co.uk. Ask about our introductory offer at the time of booking.